Mrs. Kate Carpenter - "Family Friendly Funnies!"
We heard Mrs. Kate's music and said, "Ahh, there's a family friendly funny lady." (We talk like that around here.)
Anyhow, she's a pastor's wife who has been married to the same guy (the pastor, that is) for over 36 years. She raised a family while all the while writing funny songs about all the goofy things that happen in a household. Now her kids are grown and she's out there performing and recording her music all over Florida - at schools, libraries, festivals, and churches, making people laugh everywhere she goes.
We asked Kate to make us a special compilation album that we could feature as an MP3 DOWNLOAD ALBUM ONLY.
Check out the song samples below and we think you'll agree - Mrs. Kate is really funny, and family friendly too!!

DOWNLOAD Mrs. Kate!
All the tracks listed below are now available for MP3 download at JUST 89¢ EACH (no limit).
You can also order the entire album with just one click at a special reduced rate.
Clicking 'BUY' on any of the song links will take you to the Mrs. Kate MP3 Download shopping cart,
where songs are listed in album order.
You can order as many songs as you want.
All of our downloads are in REGULAR MP3 FORMAT, so you can play them on any music player or computer.
When you check out, an e-mail will immediately be sent to you for each song you purchased, with a link for downloading each song.

This is a great way to get just the songs you want at a great price.
SATISFACTION GUARANTEED!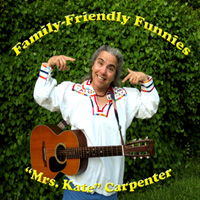 Songs From the exclusive album "Family Friendly Funnies"

Download the entire album (14 Tracks) for just $11.99!



SONGS:
The Potty Training Song :


The Plague (Head Lice):


Lima Beans:


Why Are There Fire Ants?:


Preacher's Wife Blues:


Who Put A Toothpick In My Waterbed?:


Mothers Of Teenagers, Unite!:


Video Nut: